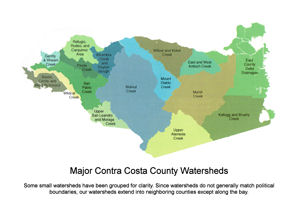 This map from the Watershed Atlas provides an overview of all the county's watersheds.



This map provides an overview of the watershed with the freeways and cities as reference points.


Maps of the Walnut Creek Watershed
Click on any map for a larger version.
The Walnut Creek watershed is the largest in Contra Costa County at about 96,000 acres or 150 square miles. It is roughly contiguous with the I-680 corridor, stretching from northern San Ramon to Suisun Bay. As a consequence of flat land and high population density, it is also the most altered by flood control measures.
Because the watershed is so large, it has four sub watersheds which come together roughly where the freeways cross. Las Trampas Creek drains the area south and west of the interchange including Lafayette. San Ramon Creek drains the area south and east. Pine Creek drains eastern Walnut Creek (city) and most of Concord. Grayson and Murderer's Creeks drain Pleasant Hill and Pacheco.
Walnut Creek itself is formed when San Ramon Creek and Las Trampas Creek flow together approximately at Liberty Bell Plaza in downtown Walnut Creek. The Pine Creek confluence is behind Water World just north of the I-680/242 split. Grayson and Murderer's Creeks come in at Pacheco.
The County published a Watershed Atlas with many excellent maps and other creek-related information. However, it always broke the Walnut Creek watershed into its four sub watersheds, so there are no maps that provide a unified view of the creeks in Walnut Creek. For that reason, two are presented here.
The detailed map of the Walnut Creek vicinity has enough creeks on it that one would think it was a well-watered place. But many of these creeks are seasonal (runs during the rainy season) or ephemeral (runs only after a very heavy rain). Many are out in the hills of the Open Space and drain only a very small area, where there was never much water to begin with.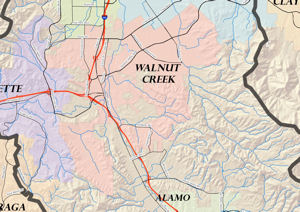 This close up from the watershed overview map, centered on the city of Walnut Creek, shows how the creeks relate to the topography in this area.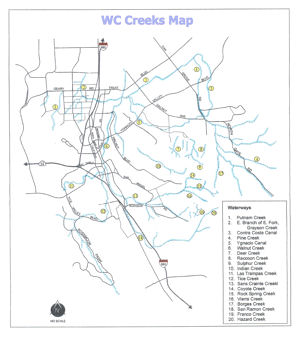 This map shows and names all the creeks in Walnut Creek with major street names as references.