Our Activities
Annual Creek Cleanup
Arundo Removal
Fish Sampling
How to Volunteer
Creeks Master Plan
Creek History
Maps
Wildlife in the Creeks
Otters and Beavers
Creek Science
Water Quality
Bioassessment
BMI Lifestyles
Creek Structure
Native Walnuts
About FOC
About Us
Join Us
Contact
Community Service Day Projects


Friends of the Creeks is sponsoring two projects on Community Service Day in 2016 -- a cleanup on Pine Creek at Oak Grove, and for the more restoration minded, ivy removal in Civic Park. To volunteer, sign up here:


The event offers a free pancake breakfast and free T-shirt at Heather Farm Community Center starting at 7:30 am.





********************************************



Upcoming Events




Restoration workday: Sat Nov 11 from 9:00am-noon
Restoration days monthly on the 2nd Saturday
Community Service Day, Sat Oct 14, 8:45am
2018 Annual Creek Cleanup: Sat May 12, 8:45am
To sign up, contact us.



********************************************


Summer Restoration Workdays

We are transforming a weedy area of creek bank in Civic Park into a meadow of wildflowers and native grasses. Join us for some rewarding work, camaraderie, and sometimes a brief talk about an aspect of creek ecology. No experience is required -- just a desire to make the creek a better place for both humans and wildlife. In July we weeded our restoration plot, and in August we removed arundo from the creek channel. We're all ready for the winter planting season!

For more information about workdays
To sign up, contact us.
Photos of past restoration days


Investigating Fish Habitat

As part of our ongoing project to learn more about the fish in our creeks -- both what species we have and where they live -- we asked Gretchen Hayes, a geomorphologist, to teach us how to do pebble counts. This is a technique for assessing the quality of gravel beds for suitability as redds (the nests salmon build to lay their eggs). After locating a promising spot, we laid out a grid, took a sample pebble from each intersection, and measured and recorded it to get a histogram of gravel sizes. We found that we had more fine gravel than is optimal.


Thank you to all our cleanup volunteers!


Over 150 people attended the 28th annual downtown Walnut Creek creek cleanup on May 13. We collected 16 cubic yards of debris. Two-thirds of it was habitat restoration-related, and the rest was trash.

Photos of the 2017 creek cleanup are available here.














Volunteers clean up Pine Creek on Community Service Day 2014. Every year new trash finds its way into the creeks and needs to be removed before the winter rains come.


In August, we worked on removing the few remaining clumps of arundo below the Creekwalk.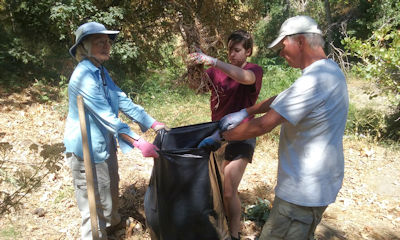 We weeded our restoration area in July, bagging the weeds that had seeds. To minimize use of plastic, we just put weeds with no seeds in a pile and let them turn to compost.



The volunteer on the left is measuring a pebble, while the one on the right is reaching into the water to select one.





Crew 5 poses with some of the trash from their area at the 2017 creek cleanup. Yes, it's just some -- the lawn chair and several other sizable items are missing.