Our Activities
Annual Creek Cleanup
Arundo Removal
Fish Sampling
How to Volunteer
Creeks Master Plan
Creek History
Maps
Wildlife in the Creeks
Otters and Beavers
Creek Science
Water Quality
Bioassessment
BMI Lifestyles
Creek Structure
Native Walnuts
About FOC
About Us
Join Us/Donate
Contact
Community Service Day Project


Once again we cleaned up Pine Creek in the eastern part of Walnut Creek. Most of the 20 cubic yards of trash we collected was small items, but we had some larger things like a tire tread and a piece of metal frame. We had 23 volunteers who hung in there with us, even after all the rescheduling and other uproar necessary because of the North Bay fires. Thank you to all who came out and helped!





********************************************



Upcoming Events




Restoration workday: Sun Dec 10 9:00am-noon
Note date change for December only! It's Sunday
Restoration days monthly on the 2nd Saturday
2018 Annual Creek Cleanup: Sat May 12, 8:45am
To sign up, contact us.



********************************************


Winter Restoration Workdays

We are transforming a weedy area of creek bank in Civic Park into a meadow of wildflowers and native grasses. Join us for some rewarding work, camaraderie, and sometimes a brief talk about an aspect of creek ecology. No experience is required -- just a desire to make the creek a better place for both humans and wildlife. In July we weeded our restoration plot, and in August we removed arundo from the creek channel. We're all ready for the winter planting season!

For more information about workdays
To sign up, contact us.
Photos of past restoration days


Investigating Fish Habitat

As part of our ongoing project to learn more about the fish in our creeks -- both what species we have and where they live -- we have been sampling in Tice Creek recently. So far we have found California roach, three-spined stickleback (both native), and two species of crayfish, one native and one not.

We also record any wildlife and native plants we see. At one site we heard or saw five species of woodpeckers, a variety of songbirds, broad-handed mole tunnels, deer scat and a tree where they rubbed velvet off their antlers.


Thank you to all our cleanup volunteers!


Over 150 people attended the 28th annual downtown Walnut Creek creek cleanup on May 13. We collected 16 cubic yards of debris. Two-thirds of it was habitat restoration-related, and the rest was trash.

Photos of the 2017 creek cleanup are available here.














Volunteers clean up Pine Creek on Community Service Day 2014. Every year new trash finds its way into the creeks and needs to be removed before the winter rains come.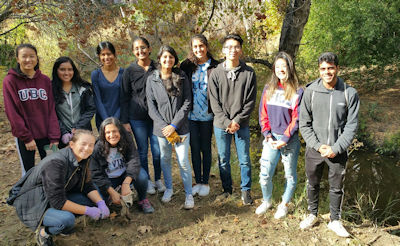 Volunteers pose at the edge of the area they cleared of grass at the November restoration day. Earlier they planted water-loving plants down near the water level.


In August, we worked on removing the few remaining clumps of arundo below the Creekwalk.





The volunteer on the left is looking up GIS information on his phone to include on our data sheet. The fish to be recorded are in the bucket.




Crew 5 poses with some of the trash from their area at the 2017 creek cleanup. Yes, it's just some -- the lawn chair and several other sizable items are missing.