Our Activities
Annual Creek Cleanup
Arundo Removal
Fish Sampling
How to Volunteer
Creeks Master Plan
Creek History
Maps
Wildlife in the Creeks
Otters and Beavers
Creek Science
Water Quality
Bioassessment
BMI Lifestyles
Creek Structure
Native Walnuts
About FOC
About Us
Join Us/Donate
Contact Us
Creek Restoration Workdays

We are transforming a weedy area of creek bank in Civic Park into a meadow of wildflowers and native grasses.
Join us for some rewarding work, camaraderie, and sometimes a brief talk about an aspect of creek ecology.
No experience is required -- just a desire to make the creek a better place for both humans and wildlife.


Our recent progress: This winter we prepared a new area for sheet mulching and later mulched it. An Eagle Scout planted the area we had sheet mulched a couple of years ago. In February, we weeded last year's area and planted more grass and flowers in it.

During the summer, we'll continue to care for the planted areas and do arundo removal.

For more information about workdays
To sign up, contact us.
Photos of past restoration days

********************************************
Upcoming Events
Restoration workday: Sat Jun 9 9:00am-noon
Restoration days monthly on the 2nd Saturday
2018 Annual Creek Cleanup: Sat May 12, 8:45am
To sign up for an event, contact us.

********************************************

Water Quality Monitoring Group
Wanna help?
About a year ago the Contra Costa Watershed Forum created a water quality monitoring committee which Friends of the Creeks joined. The group meets monthly at various creeks around the county to practice monitoring techniques, learn new skills, and compare notes. Monitoring activities include observation of weather, water clarity and rate of flow; testing pH and dissolved oxygen; and identifying aquatic bugs. We would like to start a group for our creek and are looking for people who are interested in learning more about our creeks. If that sounds like you, please Contact Us.
Investigating Fish Habitat
As part of our ongoing project to learn more about the fish in our creeks -- both what species we have and where they live -- we have been sampling in Tice Creek recently. So far we have found California roach, three-spined stickleback (both native), and two species of crayfish, one native and one not.
We also record any wildlife and native plants we see. At one site we heard or saw five species of woodpeckers, a variety of songbirds, broad-handed mole tunnels, deer scat and a tree where they rubbed velvet off their antlers.



Crew 2 crosses the creek at the 2017 cleanup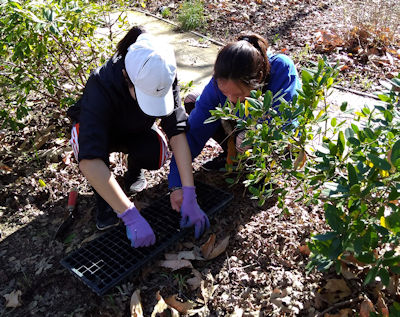 These girls are removing the last grass seedlings from the tray to plant them.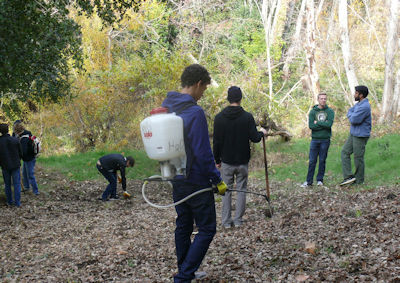 The Eagle Scout project crew planting and watering native grass seedlings. This roughly doubled the size of the restored area.



Water quality monitors practice making weather observations at a site on Marsh Creek. Later we tried making observations on aquatic bugs for the first time.





The volunteer on the left is looking up GIS information on his phone to include on our data sheet. The fish to be recorded are in the bucket.