Our Activities
Annual Creek Cleanup
Arundo Removal
Fish Sampling
How to Volunteer
Creeks Master Plan
Creek History
Maps
Wildlife in the Creeks
Otters and Beavers
Creek Science
Water Quality
Bioassessment
BMI Lifestyles
Creek Structure
Native Walnuts
About FOC
About Us
Join Us/Donate
Contact Us
Thank you
to all our cleanup volunteers who removed 17 yards of trash and vegetation from the downtown creeks!
____________________



Special Event on June 8
9:00 - noon
Help Us Celebrate
California Invasive Species Awareness Week


Work with like-minded people to remove invasive plants, improve the creek, and make new friends! We'll be concentrating on arundo, poison hemlock, and ivy. Bring gloves and wear your grubbies.
Contact us
to sign up and tell us how many people are coming. We'll reply with all the details and the required waiver form.

Creek Restoration Workdays
We are transforming a weedy area of creek bank in Civic Park into a meadow of wildflowers and native grasses.
This season's work started in January -- we're cleaning up weeds and planting new seedlings.
Join us for some rewarding work, camaraderie, and sometimes a brief talk about an aspect of creek ecology.
No experience is required -- just a desire to make the creek a better place for both humans and wildlife.


For more information about workdays
To sign up, contact us.
Photos of past restoration days

********************************************
Upcoming Events
Invasive Plant Removal event: Sat June 8, 9:00am
Next Restoration event: Sat July 13, 9:00am
Community Service Day: Sat Oct 14; lots of projects
Annual Creek Cleanup: Sat May 11, 8:45am
To sign up for an event, contact us.

********************************************
A Year of Arundo



As members of the Walnut Creek Watershed Council, we joined the watershed-wide focus on arundo this year. Arundo (a relative of bamboo) is the single worst weed in California creeks, and we have a lot of it in certain areas of our watershed. We are taking a three-pronged approach:

The first phase was to map the arundo. A member of Friends of San Ramon Creeks with GIS expertise led this effort. DVC provided assistance with drones.

Second, much of the land along creeks is in private ownership, making it essential to reach out to the owners to educate them about arundo removal if our project is to be a success. We have held several meetings to do this, including a watershed-wide evening event at DVC attended by about 100 people.

Third, the arundo needs to be replaced by plants, preferably native ones, that are beneficial to wildlife and pollinators and will stabilize the creek banks. Creeks are important wildlife highways. We will begin this work in the coming year.

Friends of the Creeks led four arundo removal events in the past year and
participated in filming a video which you can see here.


Photos from the 2018 creek cleanup are available here. We regret that there are very few 2019 pictures; our photographer had a last-minute emergency.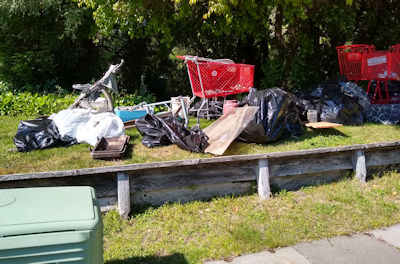 Shopping carts were a very popular item at the 2019 cleanup. Crew 7 collected three of them plus a baby stroller.




Volunteers removing a large stand of arundo in Civic Park




Last March a large group of volunteers sheet mulched a patch of Bermuda grass next to our restoration site.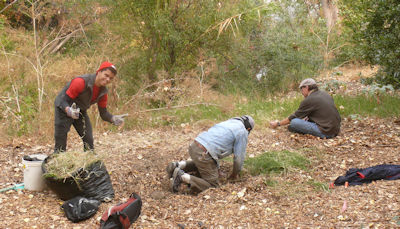 In November, other volunteers weeded the Bermuda grass that had broken through.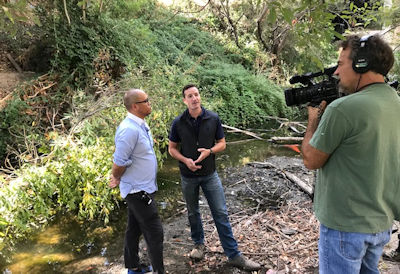 Filming the arundo video at one of our arundo removal events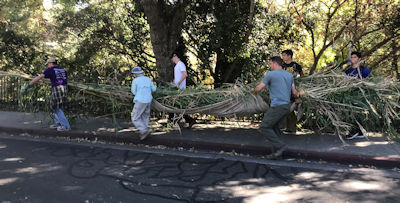 Volunteers carry 20-foot arundo canes to the dumpster during the arundo removal project on Community Service Day 2018